Blue Rock graduates are often described by educators, community members and their own peers as grounded, confident, independent, thoughtful, creative, adaptable and fearless. We maintain contact with many of our alumni and alumnae, and in interviews they have shared how their Blue Rock education fostered a belief in their own abilities. The years they had here to develop a clear sense of themselves as active learners has made them adept at solving problems and collaborating with others. They feel able to find the necessary tools to complete new tasks, readily face challenges and are motivated to pursue their interests. Our alumnae and alumni have a deep appreciation for the attention Blue Rock School devoted to who they were as unique individuals. Many graduates feel that they are not only thriving, but excelling in their new schools, often recognized for their achievements and contributions.
Parents by and large echo these sentiments, also thrilled that their child(ren) enthusiastically engaged in real learning and critical thinking beyond their Blue Rock years, even at extremely rigorous prep schools, while other more conventionally schooled children had "burned out" and lost their love for learning.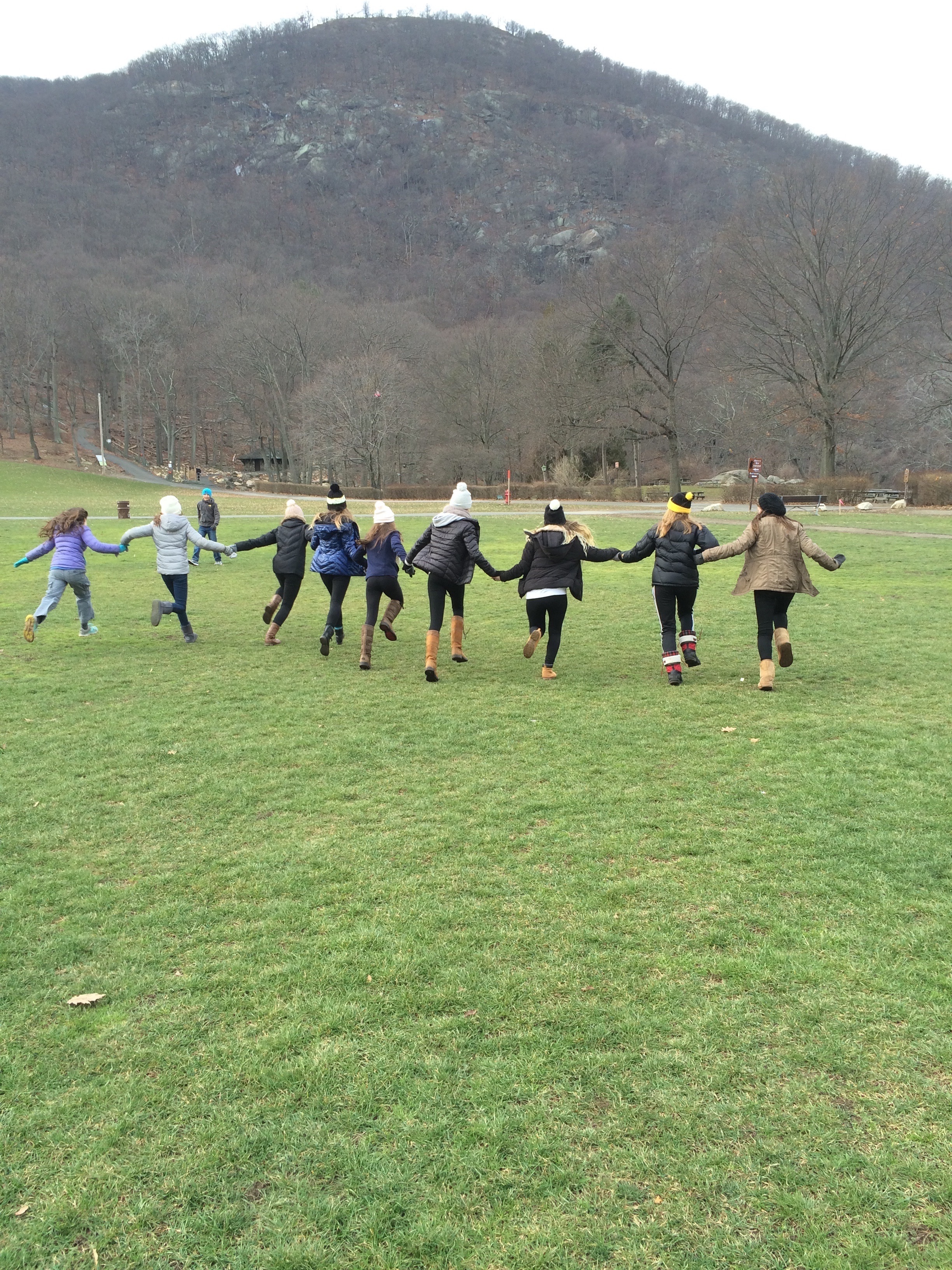 Our Graduates | Where They Go from Here | Colleges our students have attended
Making a Difference | Alumni News | Send Us Your News
Our students have thrived at a variety of public and private high schools and colleges. We have honor students at many Rockland, Westchester and Bergen County public schools including Nyack High School, Clarkstown North and Clarkstown South High Schools, as well as at Hastings High School. Dwight Englewood preparatory school in New Jersey is pleased to receive our alumni. There, the staff notices that our graduates have dimensions of character and engagement that are rare in children nowadays, and the students perform well academically. The Director of the Ethical Culture Fieldston School in Riverdale recommends our school, based on our alumni there. We have had graduates attend Green Meadow Waldorf School where the staff reports they "stand out" academically, creatively, and as leaders. Other graduates have attended The Masters School, Hackley School, The Harvey School, Saddle River Day School and Rockland Country Day School. Some students are attending specialty high schools in New York City such as Professional Performing Arts School, Kaufman Center Special Music High School, Bronx High School of Science as well as Rudolph Steiner School and The Dalton School. Some have traveled further to The Darrow School in New Lebanon, New York and The Putney School in Vermont. Other high schools attended include:
Cardinal Spellman High School

Fordham Preparatory School

High School of American Studies at Lehman College

High School for Environmental Studies

Iona Preparatory School
Irvington High School

Nightingale-Bamford School

Saddle River Day School

Tappan Zee High School

Trevor Day School
Colleges Our Students Have Attended Include:
Bard College

Bennington College

Berklee School of Music

Boston University

Bowdoin College

Carnegie Mellon University

Columbia University

Cornell University

Dartmouth College

Emerson College

Fashion Institute of Technology

Friends World College

Green Mountain College

Harvard University

Hunter College

Massachusetts College of Art

Middlebury College

New York University

Northwestern University

Oberlin College
Ohio State University

Parsons School of Design

Skidmore College

Stanford University

Rhode Island School of Design

Rockland Community College

Rutgers University

SUNY Binghamton

SUNY Oswego

SUNY Purchase

Syracuse University

University of Albany

University of Barcelona

University of Chicago

University of Pennsylvania

Vassar College

Wesleyan University

Westchester Community College

Yale University
among others
Our Graduates | Where They Go from Here | Colleges our students have attended
Making a Difference | Alumni News | Send Us Your News
Beyond college, we have had alumnae and alumni engaging in a myriad of service learning programs: the Peace Corps in Africa, bringing theater to communities in Bosnia and Herzegovina and in Kigali, Rwanda, designing water purification systems for developing nations, working as an Outward Bound-trained teacher in the Bronx. In their professional lives they have taken on careers as potters, scientists, doulas, filmmakers, journalists, musicians, doctors, dancers, entrepreneurs, actors, teachers, photographers and visual artists, among other interesting vocations.
Blue Rock graduates' spirited pursuit of their dreams brightens the world and ripples outward to touch many lives. By pursuing their interests and living life fully, our alums are making a conscious and lasting impact on their communities.
Our featured Blue Rock Alums for Fall 2019 are:
Our featured Blue Rock Alums from Fall 2018:
If you would like to be featured in our Alum section, please let us know. We are happy to interview you and delighted to have a you share a bit about your life after your Blue Rock years.
We would love to hear from you and hope that you will be in touch. Please complete the Alum Update Form below to keep us and your old BRS friends and teachers up to date. Send a recent photo along as well.
Check Us Out on Facebook!